Bullying at School, workplace bullying and cyberbullying advice
Bullying at school, bullying at work and online bullying advice for staff, managers, children and parents
If you are struggling with a bullying, harassment, cyberbullying or anti-social behaviour issues, we hope this website will enable you to identify solutions and remedies along with practical help.
We are all potential targets – whether we are adult, child or whether the bullying is at school, in the community, at work, on line or at home.
We are a nationally recognised help and advice centre dealing with bullying issues in the UK. Endorsed by The Rt.Hon David Cameron, The Employment Tribunal Service, ACAS, Citizens Advice, OFSTED, The Samaritans, UK Employment Law Solicitors, GP surgeries UK wide, the NHS and other UK employers in the public and private sector - and you.
Bullying
Bullying can cover a vast range of topics including Bullying at School, Bullying at work and bullying by mobile phone or online. Here you will find some of the topics covered on this page with useful information and helpful advice.
> Bullying advice for Employees
> Help for Employers and business owners
> School bullying advice for parents
> eCrime and Cyberbullying
> What can we do to stop bullying
> Worried about your child at school
> Is your child being bullied
> Someone you know is bullying you
> What to do if you are accused of bullying
> Tim Field - Bully in Sight
> Our patron
Help and advice for employees dealing with bullying at work.
If you believe you are being bullied or harassed at work by a colleague or management, we can help. You may have been Suspended, Dismissed or Disciplined or left feeling you have been treated unfairly.
Click here to find ideas, solutions and strategies to ease your work-related stress and help you though the situation. Hopefully this will lead to a solution to your problem.
Read more
Bullying in the workplace advice for employers and managers
We specialise in all areas of employment law related to Bullying in the workplace and conflict resolution. From dealing with difficult staff to Independent workplace investigations we can help.
If you are a Supervisor, team leader, line manager or Director and you have responsibility for managing staff, you will find guidelines, tips, recommendations and solutions here.
Read more
Help for parents dealing with bullying at school
If your son or daughter is getting bullied at school or you are a parent dealing with a distressed child who is being bullied right now. We can help with practical advice that's proven to stop bullying or help you approach the school to address the situation.
Maybe the school simply isn't doing enough to prevent bullying or protect you child. Whatever your bullying concern, we can help provide practical solutions and supply you with the right tools to tackle the situation
Read more
Help and advice for people that are bullied on-line
Cyberbullying is on the increase - more and more cases are being reported to our helpline by children and extremely worried parents every day.
It's a personal attack using technology, which is intended to cause you harm or distress. If you have been the target of on-line abuse or believe you are the victim of cyberbullying. We can offer practical advice and solutions to put a stop to this modern form of bullying.
Read more
eCRIME Action is a dedicated website set up by the National Bullying Helpline to help anyone effected by cyberbullying or online harassment. We hope that eCRIME Action website will give the public 'choice' in terms of help-lines, guidance and expertise available to take pressure off Parents, Schools and the Police.
eCRIME Action
Bullying Help Guides
Here you will find Guides to help you through your current situation. Whether you are an adult, a child, a parent, an employee or an employer, there will be something for you here to help you tackle bullying or harassment, on or off-line.
Before calling our helpline, take a quick look at the documents on offer on this page.
Is your child being bullied
Is your child being bullied, is a guide
written by the founder of the
National Bullying Helpline designed
to walk you through every step of
the process and help you resolve the
problems your child is facing.
The guide includes everything you need to know from setting expectations, the role of the school, how to escalate matters to detailed template letters to the school, Headmaster and Governors or Trustees.
More information
What to do if you are accused of being a bully
Anyone accused of being a bully will,
naturally, be upset. If you are accused,
it may be you are being subjected to
a form of bullying yourself. Or, it may
be, you need some assistance or
additional resources.
This document is aimed at assisting those who are accused of bullying – whether there is substance to the allegation or not.
More information
Someone you know is bullying you on-line
If someone has posted false,
malicious or private things about
you online and you believe the
cyberbully is someone you know or
used to be friends with, this can be
very distressing.
This guide will help you understand what you can do and how to persuade the perpetrator to stop bullying you.
More information
Do you know someone at risk or have concerns for a friend or colleague?
We will act if we believe and adult or child is at risk or in danger. We have a Service Agreement with Wiltshire Police, covering the UK, and we work closely with them in cases where an individual feels intimidated or threatened in any way. In an emergency you can contact the Police Domestic Violence Liaison Officer : North & West Wilts. Telephone: 01249 449766
We help people in distress in a practical, positive, timely, way and in some cases we will put callers in touch with professional service providers ; (ACAS, Solicitors, Mediators, Counsellors and other dispute resolution service providers etc).
If you believe that someone you know at school or work is at risk of self harm, violence or suicide, please call 999.
Are you worried about your child at school
Every day we hear from parents regarding a negative response they 'allege' they have received from their child's School.
Obviously this does not apply to all Schools. However, more and more we hear of cases where parents are left feeling angry and frustrated with a School because all attempts to raise matters with the school have proved fruitless.
Sometimes, the bullying incident(s) involving the child becomes secondary - as the relationship between the parent and the School breaks down completely. We have even heard from some parents that a School has labelled them 'paranoid'.
The parent wants to protect their child. The Teacher and School wants to protect their reputation. When both parties are at a point self preservation it can be very difficult to see the light at the end of the tunnel.
Find out more
What can we do to stop bullying in schools
As each year passes we receive the same phone calls to the helpline from worried parents and distressed children asking for help to deal with bullying at their local school or collage. We are alarmed at the increase in death threats across the UK, suicide attempts amongst teenagers and an increase in on-line abuse through various social media forums.
This year during Ban Bullying week 2018, we will no doubt see a significant increase in calls to bullying charities and helplines due to media coverage. Raising awareness is always good and this year will be no exception. This gives us all the opportunity to raise awareness and think about how we can put a stop to bullying.
Typically, parents call a helpline because they feel their child's school has been unhelpful, accepts no responsibility or simply does not believe them. Of course this does not apply to all schools but when a parent finds themselves in this position they need someone to listen to, bring some common sense to the table and advise them what to do.
Despite the fact that most UK schools have an Anti-Bullying policy or mission statement – procedural guidelines are often non-existent. Government, including The Department for Education, Ofsted and Ministers, should be working to bring about change.
In the workplace we have dispute resolution procedures (The ACAS Code of Practice for example) but schools are left to their own devices. It is the current view of The Department of Education that Schools should put their own procedures in place. This is not good enough. Ofsted say they do not have the power to address bullying in schools,
A routine Ofsted inspection could involve a review of bullying statistics in every UK school. Ofsted could be asking how many bullying complaints have been raised and what outcomes and remedial action is taken. We need clearly communicated guidelines for both parents and schools. Every school should have a Safeguarding Officer who is held accountable for overseeing due process.
This will free up the teachers who are currently having to deal with distressed parents. Parents will know how to set out their concerns in a constructive and professional manner and, importantly, will have some confidence knowing that they are being listened to.
Tim Field - Bully in Sight
The late Tim Field wrote the first UK website for employees. He also published Bully In Sight : How to predict, resist, challenge and combat workplace bullying. Tim's unique insight into bullying, gained from personal experience, enable everyone to appreciate the causes, consequences and costs of this inappropriate but widespread style of behaviour which blights lives.
In his book, Tim talks about; Human behaviour, effects of bullying, common excuses, remedies and what can be done. He addresses the role of the bully. How bullying manifests, itself', process, serial bullying, bullying phases, bully behaviours and bullies in denial. He even discusses psychopathic personalities and bullying phrases.
For the victim he talks about strategies, symptoms, hypervigilance, remedies and solutions through to recovery and relationships moving forward.
Bully In Sight was written before the technology kicked in and before cyber bullying became an issue. Nevertheless, this book was written with real 'insight' and years ahead of its time. We recommend it to you. If you would like a copy, please contact us.
Recommended by the National Bullying Helpline
Bully in Sight
How to predict, resist, challenge and combat workplace bullying - Overcoming the silence and denial by which abuse thrives.
This book is essential reading if you are being bullied at work, to many this book is the definitive book about bullying.
The 1st Mathern Brownie Unit
The staff and founder of the National Bullying Helpline would like to say a very special thank you to the 24 girls from the 1st Mathern Brownie Unit, Mathern near Chepstow.
The girls, all aged between 7 and 10 walked an impressive 6.5 Kilometres across the Severn Bridge to raise money for our Helpline.
This is an amazing achievement by all the girls who have raised a whopping £505. Thank you so much for your hard work and your kindness in choosing the National Bullying Helpline.
Our Patron Debbie Arnold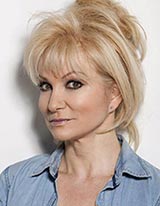 The National Bullying Helpline
is pleased to announce that
Actress Debbie Arnold has
agreed to come on board as an Ambassador.
Debbie is an Actress, an Author, an Altruist, a Writer and a Voice Artist. She has raised millions for charity. Apart from a distinguished stage abs voice-over career she has appeared in every UK TV soap over the last 30 years as a regular character. We are delighted to have her on board as Ambassador as she will help us convey some of the more important messages where harassment and sexual abuse is alleged. We want people to feel safe and comfortable and able to speak out.
" By becoming an Ambassador for us Debbie is making her position extremely clear where bullying and harassment are concerned. She is extraordinarily talented and a very strong, focused and professional woman. She will be able to help us convey some of our more important messages where harassment and sexual abuse is concerned and we are delighted to have her on board". Founder of The National Bullying Helpline
Contact us
OPENING HOURS
We are open from 9am to 5pm Monday to Friday.
We are a voluntary run helpline with limited resources and funding so please be patient if you are unable to get through first time. All donations gratefully received !
Emergency and useful numbers
Also consider Citizens Advice, DirectGov.co.uk and Employment Law Solicitors in your Town
Police Domestic Violence
01249 449766
National Bullying Helpline
0845 22 55 787
Victim Support
01380 729476